Coinbase (NASDAQ:COIN) is one of the more contentious stocks heading into Q4 '22 earnings as we think investors under-appreciate the immense optimism tied to cryptocurrencies but the overwhelming difficulty in generating positive returns from the category in a continued market downtrend. Even so, we believe Bitcoin (BTC-USD) might be in for a bottoming in 2023.
Furthermore, we write about Coinbase in relation to Bitcoin in this report to address the prospective upside from a bullish Bitcoin market and how it could positively impact earnings results as we get closer to the Bitcoin block halving on April 2024, which isn't too far away and will likely get priced-in ahead of and following the reduction in Bitcoin mining rewards.
Analysts estimate that Coinbase will report -$2.48 dil. EPS and revenue of $593.68 million in Q4 '22. We estimate that Coinbase will report results slightly above consensus expectations. For FY '22 we estimate that Coinbase will report $3.76 billion revenue, which compares to consensus estimates of $3.15 billion, and we anticipate an Adjusted Dil. EPS loss of -$12.61, which is lower than the consensus estimate of Adjusted Dil. EPS of -$6.79.
Coinbase Investment thesis
We value Coinbase on the basis of FY '24 earnings results, and anticipate the stock to trade at 8x FY '24 $20.17 adj. EPS after applying a discount rate of 8.4% on our 2024 price target. We anticipate that the stock will reach $160 implying 160% upside from current levels. We expect COIN to recover on the basis of block rewards for Bitcoin halving and a reversion to the long-term price appreciation trend in bitcoin. We remain optimistic of the cryptocurrency space though we're skeptical of the near-term estimates to Coinbase.
We anticipate that FY '23 earnings results will be based on a steep climb-up from losses. We anticipate that Coinbase will struggle to generate the types of margins it experienced from FY '21 in FY '23 given the lower revenues and volumes. We provide enough room in our model for Coinbase to deliver on expenses and revenue over the next 12-months, and we think the stock is fundamentally undervalued as we're experiencing the extreme emotional lows of a cryptocurrency bear market. We think accumulating in this environment will translate to substantial returns once the cryptocurrency market turns the corner, which will get priced into Coinbase, and could even get priced-in ahead of Bitcoin price gains, which is why we rate the stock a strong buy in this environment.
Why we like Coinbase and the future of Centralized Finance or CeFi
Coinbase has done a lot to differentiate itself from peers in the space, and while it's not necessarily the leader in decentralized finance products, it's emphasis on being a more custodial and centrally regulated figure in cryptocurrency lends itself to becoming a great on-ramp for buying and selling and transferring to digital wallets, which can then be leveraged into either decentralized finance DeFi products (Uniswap), along with a host of other decentralized web 3.0 applications, intended to leverage smart contracts, NFTs, collectibles, rare art, games, and so forth.
We believe that central finance or CeFi products tied to USCoin USD (USDC-USD), Coinbase's dollar-backed stablecoin to be the next major wave on its platform. It seems less gimmicky, and fraught with a lot less risk at the present time, as we think there's tremendous value in the savings and staking component of assets tied to digital wallets, or really digital currencies.
We are of course, very much Bitcoin purists in the sense that on an absolute basis returns from cryptocurrency are best optimized by leveraging Bitcoin, we would view Coinbase as another viable means of investing into the space.
Because of the negativity tied to the Sam Bankman-Fried or abbreviated as SBF scandal, we think the CEO of Coinbase, Brian Armstrong looks better to public market regulators and investors.
Coinbase does have to settle various fines, which various readers do note. But, the fines are small in scale. Coinbase tends to be proactive in negotiating terms with regulators, and also COIN doesn't have the same risks posed to public market investors as some decentralized exchanges, which are less regulated, but provide more liquidity in many cases.
We think decentralized finance and exchanges who operate outside the scope of regulators are more prone to compliance failures paired with the fact that as a category crypto finance is relatively new, and most people don't know how to operate a regulated financial product in a less-regulated space. Even so, we acknowledge that pure cryptography based ledgers are required in order to sustain liquidity in the space, and efforts to maintain the use of wallets and decentralized swaps between independent users, decentralized exchanges, and also regulated exchanges is what continues to provide a use case albeit convoluted. It's the transferable value nature of crypto assets as a commodity, and the ability to move these hidden and more secure assets across regulated and unregulated markets by leveraging a wallet that makes the decoupling of older financial networks compelling.
When compared to the current US Dollar which is part of a centralized bank ledger that hardly anybody can monitor… A publicly viewable financial network like the Bitcoin blockchain or USDC-USD is rather revolutionary. In this case, we're mostly agnostic on exchanges, so as long as exchanges are numerous and provide liquidity outside the constraints of regulators or within the scope of regulators so as long as it creates a better user experience for managing and transacting money while also storing money privately and in a format that's useful such as USB, on computer devices, or on data center networks, or even via financially regulated and insured accounts.
From our own experience, asking recent business school grads to combine financial concepts into a digitized asset, people are stuck at the part where either the technological jargon gets too complicated, or the financial jargon starts to get so complicated that whatever orchestration of transaction that's intended to occur on a peer to peer basis leveraging financial contracts gets obfuscated by the technical hurdles and difficulty in communicating the viability of a new technology plus differentiated financial product. Basically, it's really hard to generate any scale or amass any adoption for new financial products let alone the launch of a successful cryptographically based financial product.
We like the packaging of Coinbase a lot more than the abundance of alternative ideas, and we think owning Coinbase is one of the ways to avoid the countless scammers in the cryptocurrency market.
Valuation summary on Coinbase
We value Coinbase on the basis of FY '24 earnings similar to other stocks in our coverage. However, we apply a more depressed financial multiple across adjusted earnings, adjusted EBITDA, and also sales multiple on the stock as well. We value the business using a blend of 12x forward earnings, 14x EV/EBITDA, and 3x sales given the lumpiness of financial results and the likelihood that the crypto exchange will need a bull market in Bitcoin, which seems likely at some point later in the year.
However, because Coinbase trades like a tracking stock to Bitcoin with some forward expectations embedded into the exchange operators revenue and income we value the company at approximately 8x FY '24 earnings, and further discount those estimates by the firm's WACC of 8.4% to arrive at our price estimate of $160.21.
Figure 1. Financial Model of Coinbase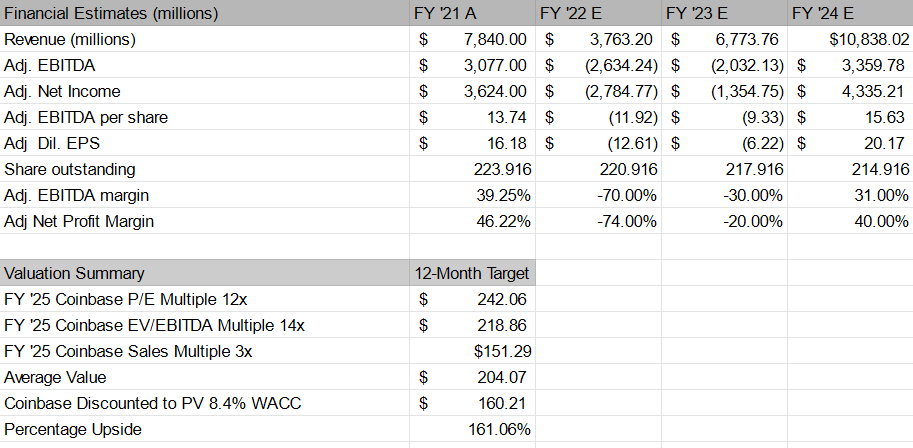 We arrive at our financial estimate, because we anticipate that from 2024 onwards the Bitcoin market block reward will decline by another 50%, which will land on FY '24 for Coinbase, sparking a likely recovery in trading revenue, and custodial related revenue on Bitcoin re-testing the $60,000 level over the next 24-36 months.
We anticipate that FY '23 results to be mostly in-line with consensus estimates or above, given added volatility and on-going adoption of various staking products. Not to mention, we anticipate that the business will exit FY '24 with revenue and adjusted dil. EPS that's just 38%, and 24% better than FY '22 actual results. This is because of the added user base, and likely increase in Bitcoin network value translates to a rapid improvement in commissions, but when averaged across the forecast period, the average growth rate for the firm across earnings metrics, and sales metrics aren't all that great on an annualized basis.
Hence, we apply multiples to the business model that are much lower than the industry average to offset the cyclical nature of the business, and the likelihood that a sudden period of out-performance will be followed by another cryptocurrency winter making it harder to justify an inflated value premium even in more difficult times. It's unlikely that Coinbase breaks from its historical past of being primarily a cryptocurrency exchange, so we have to contend with the cyclical nature of the business.
Notwithstanding, we value the business at $160.21 which implies 161% upside from where the stock is currently trading. We think there's even more upside to our model assuming investors trade the stock at a premium in the next Bitcoin fueled rally. However, we want to keep ourselves somewhat grounded in our appraisal of the company, and provide a conservative exit valuation to our model, and also conservative growth inputs from the prior peak to provide room for us to raise expectations and estimates tied to our Coinbase model.
Key takeaway heading into quarterly earnings
We like Coinbase given its solid positioning as a regulated cryptocurrency exchange, and its ability to launch new cryptocurrency products without exposing the shareholder base to unnecessary risks. We view the recent FTX scandal as being disproportionately advantageous to Coinbase as it limits competition and further asserts the need for added regulation, which favors the COIN thesis considerably.
We acknowledge that the absence of trading revenue in the near-term puts risk on the stock, but given the nature of cryptocurrency markets and the likelihood of a recovery based on the cyclical nature of the market, we think investing into Coinbase at this point in the cycle provides immense upside, or 160%+ from where COIN is trading (roughly $65 per share). We also rate the stock a strong buy, as we think it's difficult to find large cap stocks capable of making these types of returns.
The stock could appreciate by an added $95 to reach our price target of $160 from current levels, and we think a combination of strengthening volumes and improving sentiment in the space paired with underlying price gains in cryptocurrency assets will drive the stock to those levels. Absent a major recovery in the price of Bitcoin in 2023, the stock likely recovers in 2024, and so the price gains from a re-surging Bitcoin market mostly gets captured from FY '24 financial results onward.
Risk factors to investing in Coinbase
To be fair, there are risk factors to investing into Coinbase, or any cryptocurrency exchange for that matter. The original founder of Bitcoin anticipated that exchanges would fail, and that trading should be decentralized. The only way to protect Bitcoin assets is through the use of wallets not custodial accounts. Coinbase stands in the way of Satoshi's original idea of decentralization, and so it remains the one exchange that has managed to protect itself and its reputation through scandals, fraud busts, and is the anti-thesis to Bitcoin in some sense. Binance is the largest cryptocurrency exchange and the less regulated equivalent. Most cryptocurrency exchanges are similar to Binance, and decentralized exchanges is how Bitcoin found its origin. Coinbase wasn't the first exchange or broker. Regulated cryptocurrency exchanges are undervalued and don't fit in any particular category to financial sector investors, or cryptographers.
Being the last one standing doesn't make Coinbase any less risky, it just means it's going to outlast a shrinking market for Bitcoin if BTC ultimately goes the way of tulip mania, and so the two main risks to Coinbase are 1) can it withstand the test of time and avoid a major default tied to cyber theft or ransomware? 2) Does Bitcoin continue to exist in the future? Because if Bitcoin fails, the whole cryptocurrency economy goes with it (even Ethereum most likely) and also Coinbase. Assuming those two major risk factors don't get invoked we think Coinbase has substantial upside.
When heading into Q1 '23 earnings results, we anticipate that the stock will be responsive to comments tied to outlook and the launch of new centralized finance products. Updates tied to USDC-USD and usage of USDC-USD in lending transactions or progress tied to those efforts to legitimize CeFi would also help the Coinbase thesis considerably.